This is a common question, clients often ooh and ahh over the contents of my kit (mind the drool ppl!) and I do get plenty of questions over my favourite brands and products. To be honest, I like a good mix of products. I don't feel that any one brand nails absolutely everything and I base my recommendations and purchases on performance, not just luxe packaging (though it does draw me in for sure) YouTube videos (in fact I rarely take these as gospel as they're usually paid and therefore cannot be unbiased) or popularity.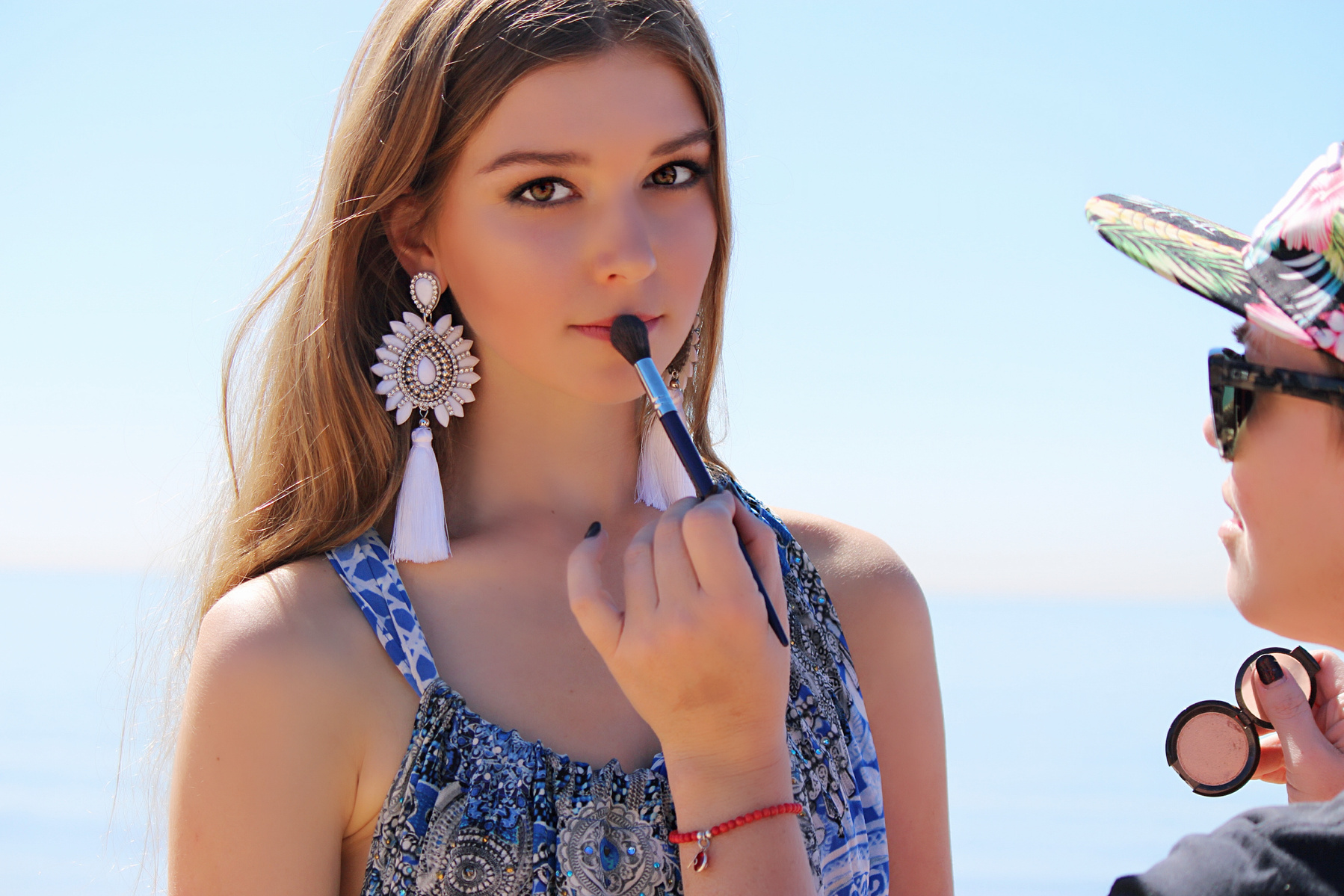 Back in the day, in Australia at least, you were either a Napoleon or a MAC artist and if you didn't fit in or adhere to those two camps of makeup, were you even a makeup artist? Clearly, no, I did not fit in (hah- story of my life!) but I didn't want to either. It is absolutely true that I do use and prefer vegan friendly and cruelty-free products and while this may seem daunting and is often misunderstood, I always base all my kit product selection on performance, so do not fear, I do not use hippy-dirt makeup, cheap brands or ineffective products and your makeup will definitely last and perform.

Some of my kit favourites are:

Hourglass Cosmetics – their ambient lighting powders are beautiful and so finely milled, can be used to add colour or luminosity to your skin, I love the Ambient Lighting Edit palette (sorry limited edition) and Dim Light, see below - luxe packaging styling, high end makeup available at Mecca Maxima – cruelty-free and committed to becoming 100% vegan by 2020.
ModelCo Lash Xtend Mascara – Tubing mascara – adds volume and length to lashes, water/humidity/tear resistant, cruelty-free, available from various resellers online or ModelCo, or Woolworths, great price point – I use this on almost everybody, even my brides!
Model In a Bottle Setting Spray – Matte Finish – For humid conditions, or to save your makeup from those tear tracks, this product is your friend and mine! A sensitive formula also available for dry skin or sensitive skin types, cruelty-free - tested only on humans.
Mecca Max – Australian yay, great price point, quality products, 100% cruelty free and vegan, available online or instore, a few of my favourites are Mecca Max Liquid Light in Gold use under makeup on the highpoints of your face like top of cheekbones to create that lit from within look or dab and blend onto base for a brighter highlight, Mecca Max Wet Look All Over Gloss – great for a wet look (you don't say) or use a highlight, and Mecca Max Gloss Boss Lip Gloss in Just Peachy – its nourishing with just a hint of sheer peach.
Fave new toy - Nabla eyeshadow single (I'm really into brands that sell single shadow pans, it means I can build the palettes according to my needs and replace shadows that are used up more quickly than others - save $$ and save the planet - YES!) in Absinthe, duochrome deliciousness, its like a warm pink sliced with sea green-blue, pair it with a black smoked out liner or wear sheer just on the lid, please request this one more just so I can admire its duoey-dynamiteyness – Cruelty-free and vegan, available from Beauty Bay or Nabla Cosmetics.
See a close up of Nabla's Absinthe at work here on Madi.
And, I could go on and on but I don't want to bore you or encourage overspending. Remember more is less, and less with more…. thanks for reading.
Carly xx