Happy 2019!!
It's really here, already, I can hardly believe it. I'm sure it was maybe September, I blinked and then WHOOSH…here we are, January 2019 (I know, I know we're like 3 weeks in, but it's taken me a while to disengage from holiday mode).
Now is the time when you're getting busy, getting back to work or trying to get the kids into a routine(-ish) before school starts, you're drinking coffee (too much – hello me) because you're staying up late and relishing some downtime. You've maybe eaten an extra kilo or three of sugar in the past 6 weeks; puddings, pies, fresh buns and chips and dips, possibly an extra wine (bottle) or cider, and now you're looking like crap.
So you've set your resolutions and intentions and while we all tend to focus on fat loss or detoxing from our holiday habits, no one talks about a new skin routine do they? Our skin is our largest organ and it absolutely reflects what is happening on the inside of your body as well as responding to outside conditions and stimuli. It's very clever; it does a bunch of regulating and protecting without any direction from us. Now if your skin is looking a bit haggard or congested or reactive, it's almost guaranteed it's something you're putting in your mouth. But if you're already checking off your healthy living goals, how can you help your skin get into tiptop shape for 2019?
Here are a few tips to get you started…
1. CLEANSE YOUR FACE!
I am floored (*mouth falls open to catch flies) when people say they don't cleanse…umm, sorry what? Cleansing removes the sebum (your skins own moisture), pollution, makeup, sweat, and the general grime from just living. Cleansing your skin is a MUST. Find a cleanser style or type that works for you and your skin type. Cleanse morning AND night, yes, both, each day. I like to use a cream or oil cleanse in the evening (oil? You say, yup, even for combination skin like mine, it's the bomb for an effective yet soothing cleanse), massage gently onto dry skin over the entire face, neck and décolletage, add water to lather and then gently remove with a warm, wet washer or muslin cloth. You may need/like to cleanse twice. I use a facial soap with cool water in the morning to wake me up and warm in the evening to relax my skin. Find the right cleanser for your skin type, and budget.
Josie Maran is a beautiful oil cleanser, it does create a little heat in the face when you're activating so you might like to use it at night to help you relax and it will feel a little "stiff" to begin with but massage will loosen the formula, not to mention feel good.
2. TONERS AND FACIAL MIST
A lot of people skip this stage, I have to admit, and I did for years too. When I was growing up Toners were all the rage and I can remember using something that barely differed from fragrant water and it never did a thing for my skin and then graduating (or should that be escalating) to an extremely astringent toner to DRY the hell out of my skin because oil equalled bad. Toners help to complete the cleansing routine and balance your skin's PH, they're not just to dry you out; it's the first next step in your skincare routine. Choose one that's right for your skin type; dry, combination or oily and consider added benefits your skin might enjoy like hydration, antioxidants, inflammation reduction, calming, and brightening and avoid ingredients like alcohol. I like a toning mist to spritz all over my face and I then go straight in with my next product, a damp skin absorbs products more readily – it's like the fast lane for your skincare!
This is my current favourite, from Truly Organic, no nasties and I love the
generous size. I spritz before serums or moisturiser and during the day to
reactivate moisturizing factors.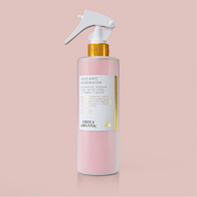 3. HYDRATE!
Ok, now I know you guys can feel paranoid about oil, I get it. I had very oily, congested skin for many years. But, oil and hydration are two entirely separate things. You see, your skin is very clever, it has its own watering and protection system, but, if we're not cleansing adequately or at all, then we can create congestion, bleck. Hydration is different, and everyone NEEDS hydrated skin! The biggest hurdle I face as a makeup artist is texture. I can create any look, sculpt cheeks, create that glow, reconstruct a brow, colour correct blemishes and brighten dark circles but the one thing that I cannot change is your skin's texture. Most people have dehydrated skin, caused by inadequate cleansing and not hydrating. The thing is (lean in closer, this might blow your mind) if you choose NOT to hydrate, your skin will continue its own watering – aka sebum – the stuff that can start to clog your pores. So get out that moisturiser, and slap it on! Choosing a type to suit your skin can be tricky I know, but aim for hydration to suit you; opt for oil-free if you have oily or combination skin, ingredients like hyaluronic acid and shea butter are oil-free (yep – shea butter is oil-free!), even simple ingredients like rosehip and jojoba oils are great for most skin types, rarely cause skin irritations and are easily recognised by your own skin unlike coconut oil which can lead to congestion.
Try one from The Ordinary, Trilogy or Sukin for budget friendly but effective hydration and nourishment for your skin.
4. SUN PROTECTION
The sun is ageing you (and making the sebum in your pores from that time(s) when you didn't cleanse, oxidise and turn black). Wear sunscreen. Everyday!
I like this one, from Mecca.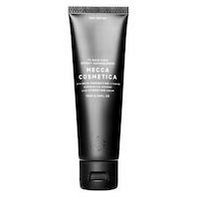 Thanks for reading, I hope that helps you kickstart your skincare routine in the right direction. Remember, your best makeup happens when you spend more effort on your skin.
Carly xx
*I receive no commission for featuring or mentioning any products in my blog, these are a few of my personal favourites.